Project Overview
Rise is a cross-platform investing education service for young adults. Most products currently available to new investors are lengthy and confusing and do not guide one through the entire investment process. Rise aims to empower new investors with a personalized, step-by-step investment education that will lead to financial success.
Project Type
Case study completed for Google UX Design Professional Certificate, Fall 2022
My Role
Concept, research, design
Deliverables
Mobile application design Responsive website design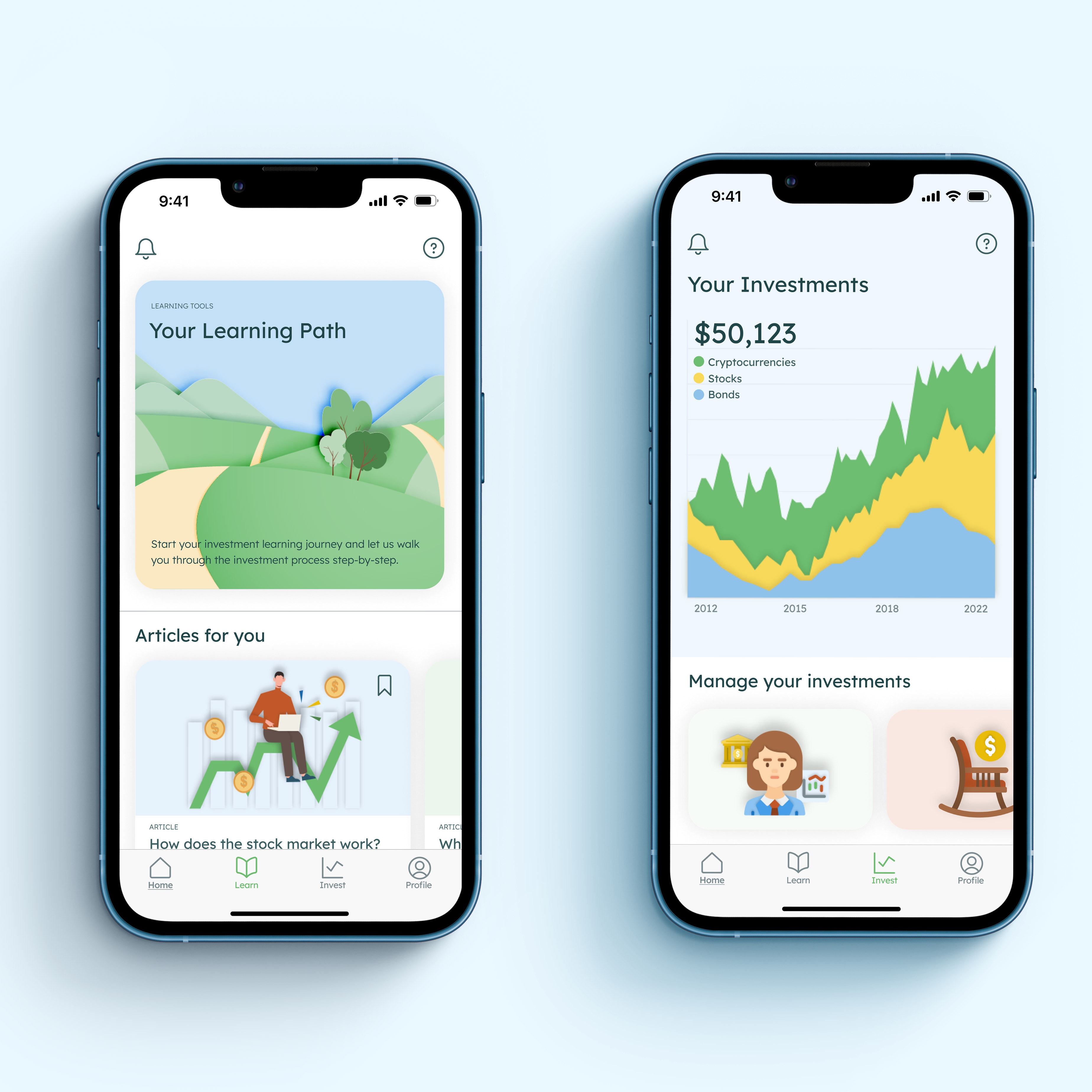 Project Goal
My goal was to create a fun, engaging, easy-to-understand process for young people to learn how to invest and get personalized advice based on their financial situation and portfolio. People of all financial and educational backgrounds should have a chance to build wealth and improve their situations without devoting endless hours to complicated investing strategies.
Target Audience
Rise was designed for young adults who are new to investing, whether they have never traded before, or have some investments, but want to feel more confident about their decisions. The tool was directed to young adults of all income levels and backgrounds, specifically trying to fill in an education gap for those who have not had access to financial education or resources.
Initial Research and Design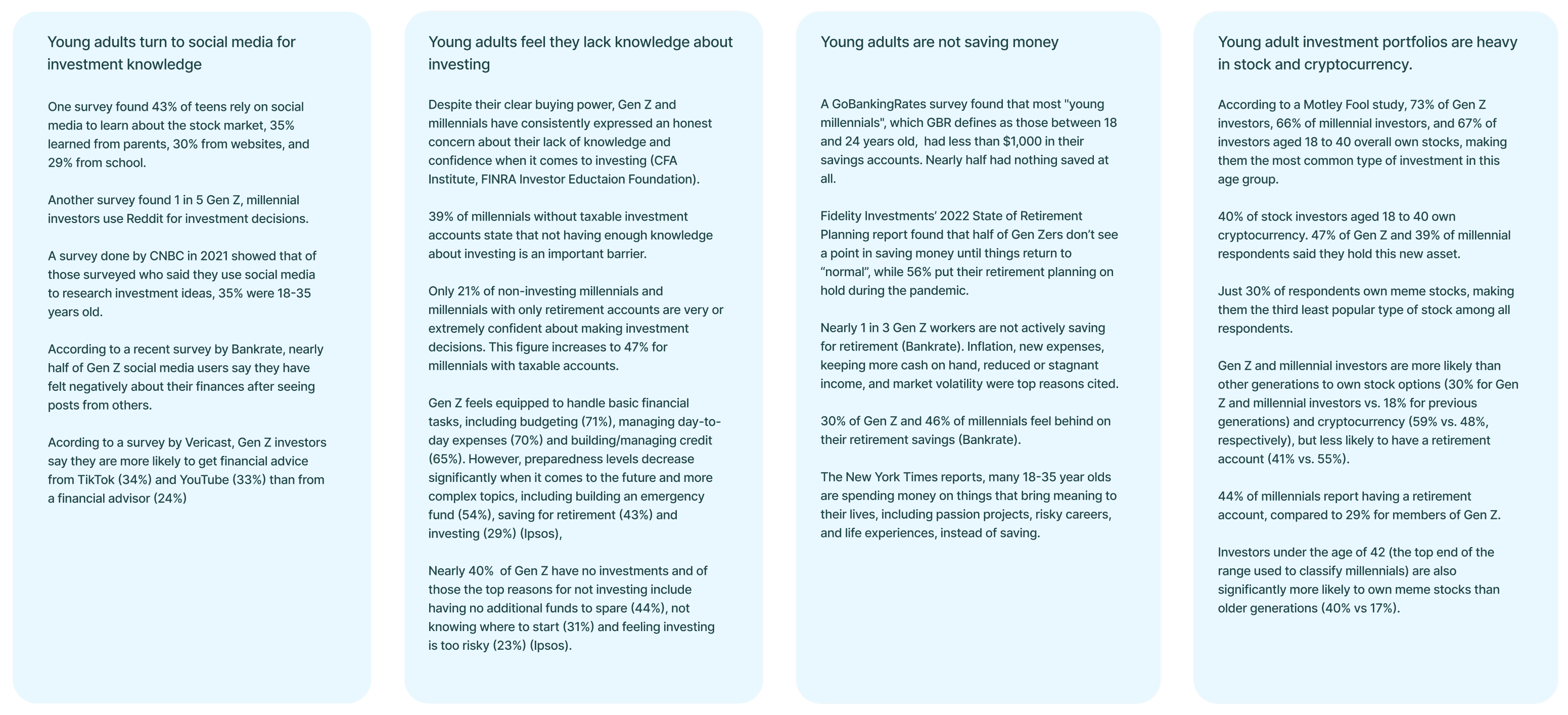 Initial Questions
When beginning this project (with a prompt to create a user experience for social good, specifically an investing education tool for young adults), I first researched what and where young adults are currently learning about investing.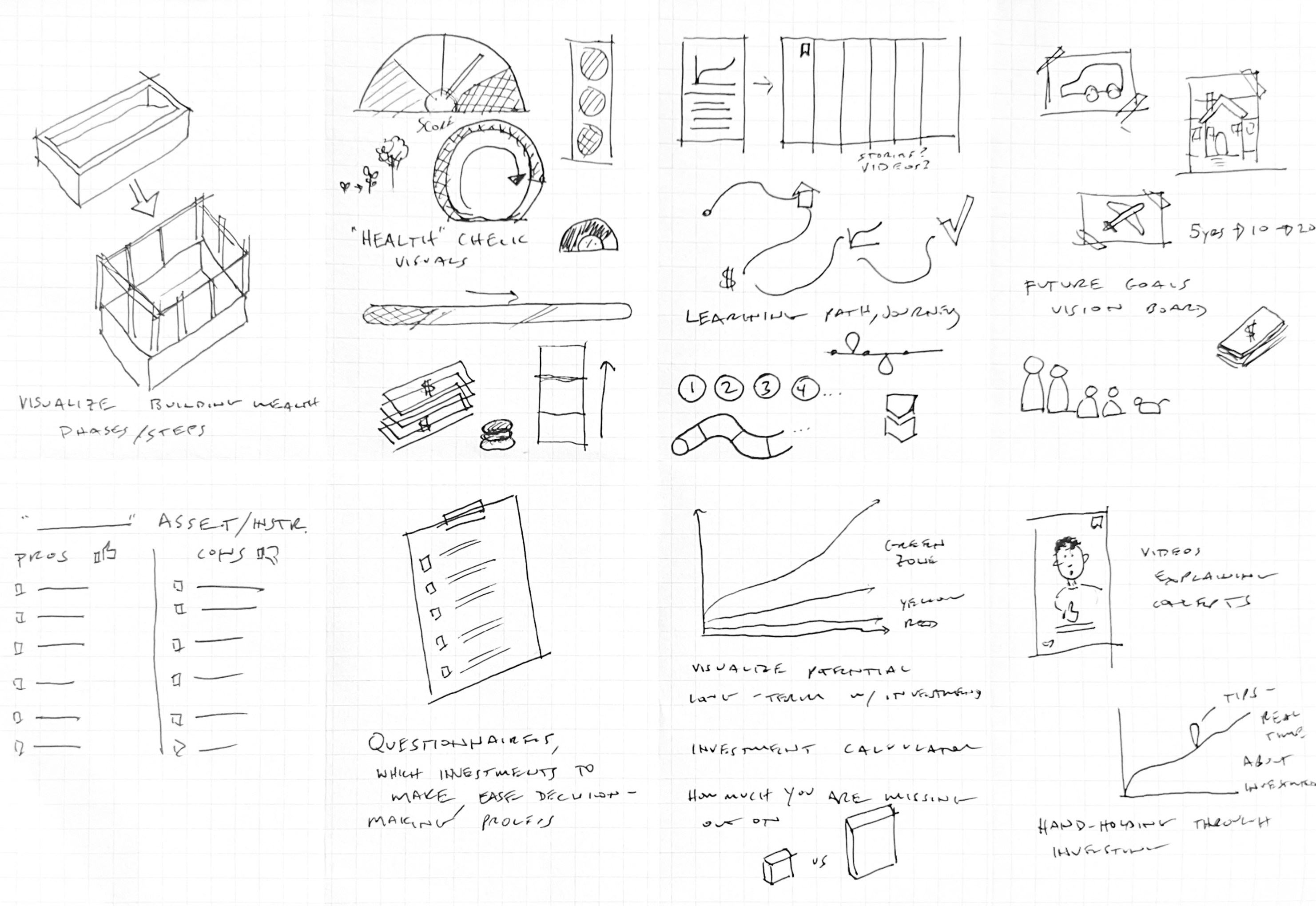 Key Challenges & Constraints
According to my initial research, a key challenge in creating an education application was to fill the knowledge and confidence gap for young investors. How could this tool become a source of trusted, bite-sized knowledge? A further challenge was overcoming young adults' aversion to saving money—how could I create a clear metric so users can know if they are on track financially?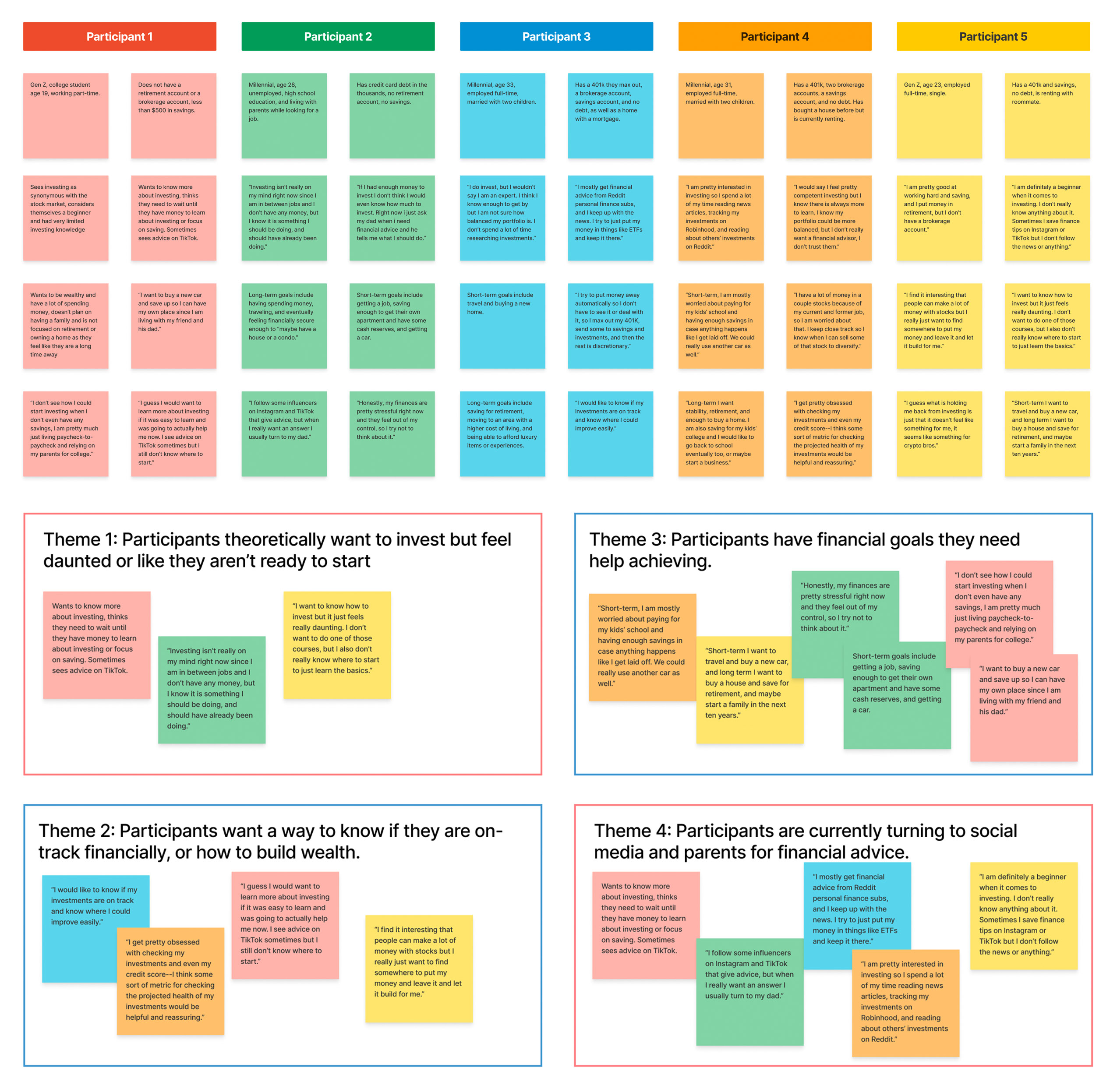 User Research
To find out more about the target audience, I interviewed five young people, aged 18 - 33 over Zoom. I found that the participants' replies aligned with the external research I conducted. Most of the participants felt they had a lot of knowledge gaps when it came to investing.
Personas
I created two personas based on my research and their current user journeys to better empathize with users and understand their struggles and goals: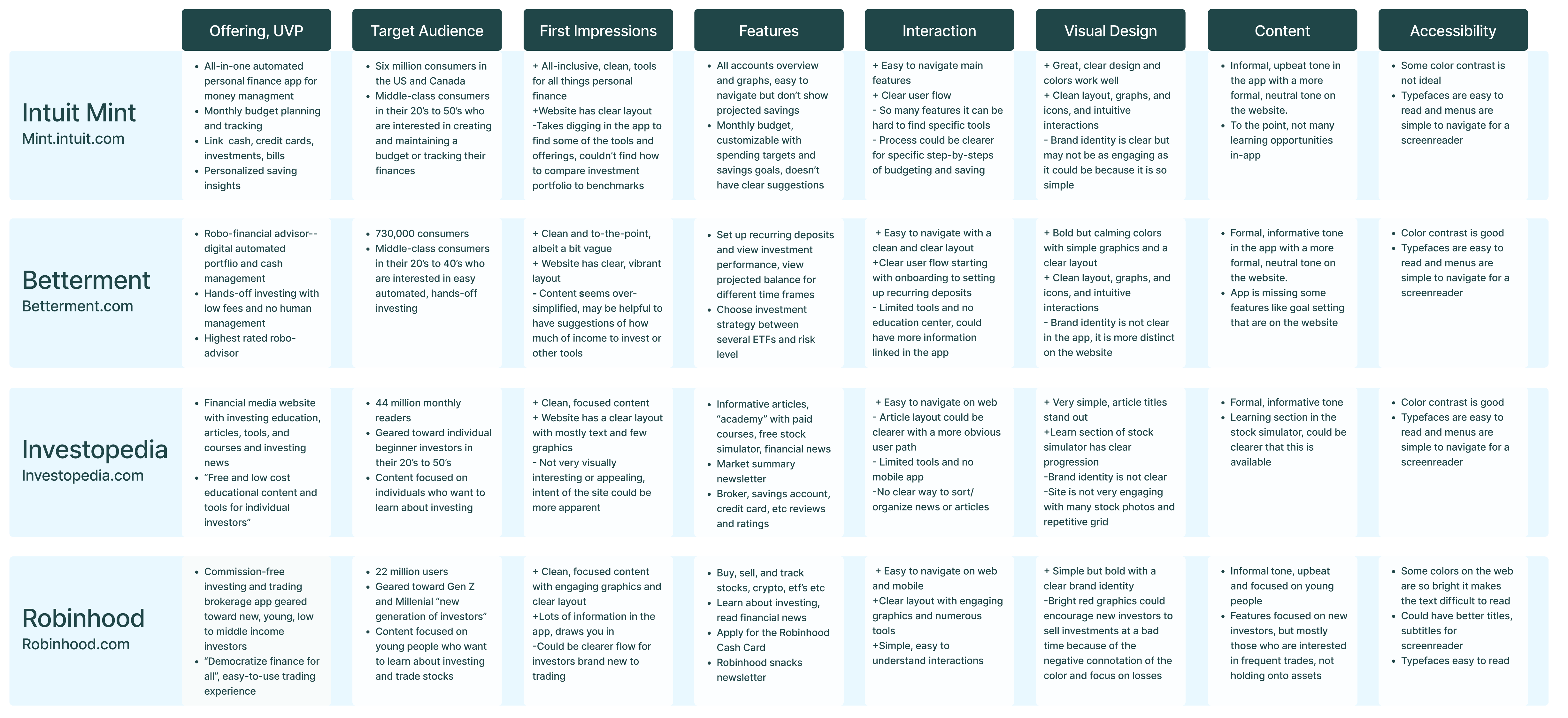 Competitive Analysis
Continuing my research, I focused on four main competitors, Mint, Betterment, Investopedia, and Robinhood to compare features and design.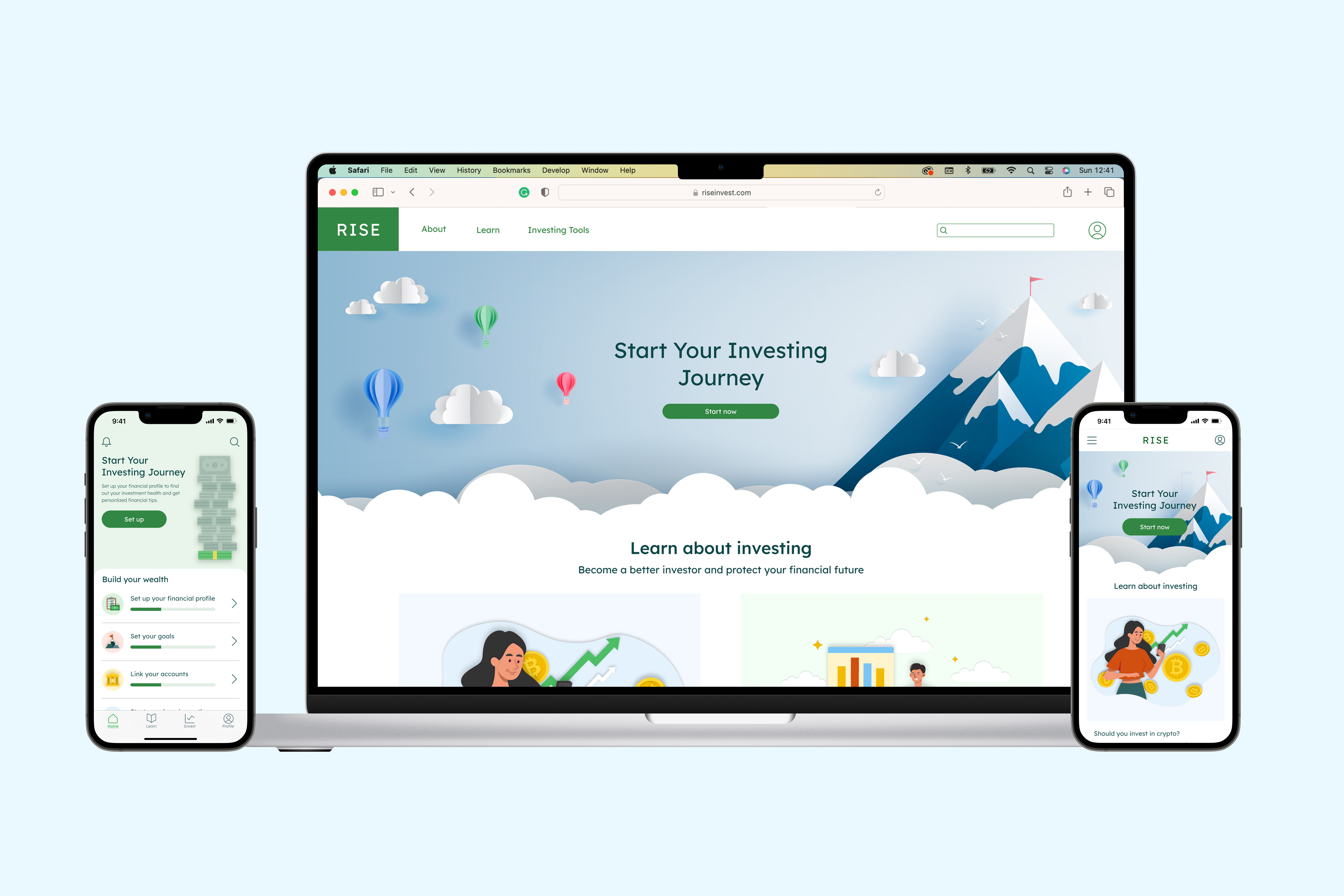 Scope
The intent of this project was to create an investing education service for young adults that taught basic principles and walked users through the investment process. Deliverables included designs for a mobile application and a mobile and desktop website, with high-fidelity mockups and prototypes showing the primary flow.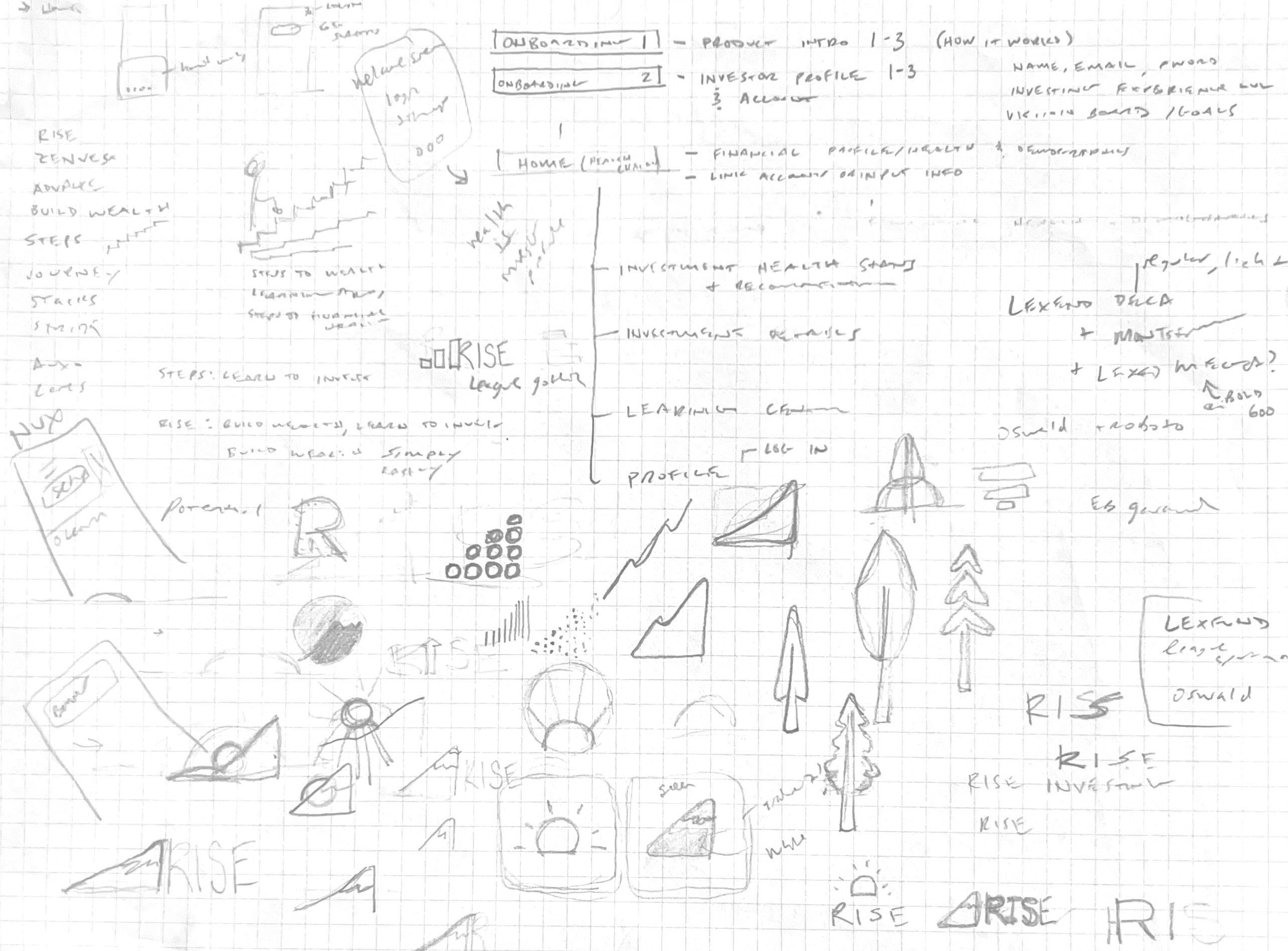 Brainstorming
Once I felt I had a clear idea of the problem I needed to address, I went back to brainstorming the user flow and company branding. I started with concepts and messy sketches, walking through the ideal flow for a user and creating preliminary paper wireframes that I could revise in more detail when I had an idea of what would be included in the app and website.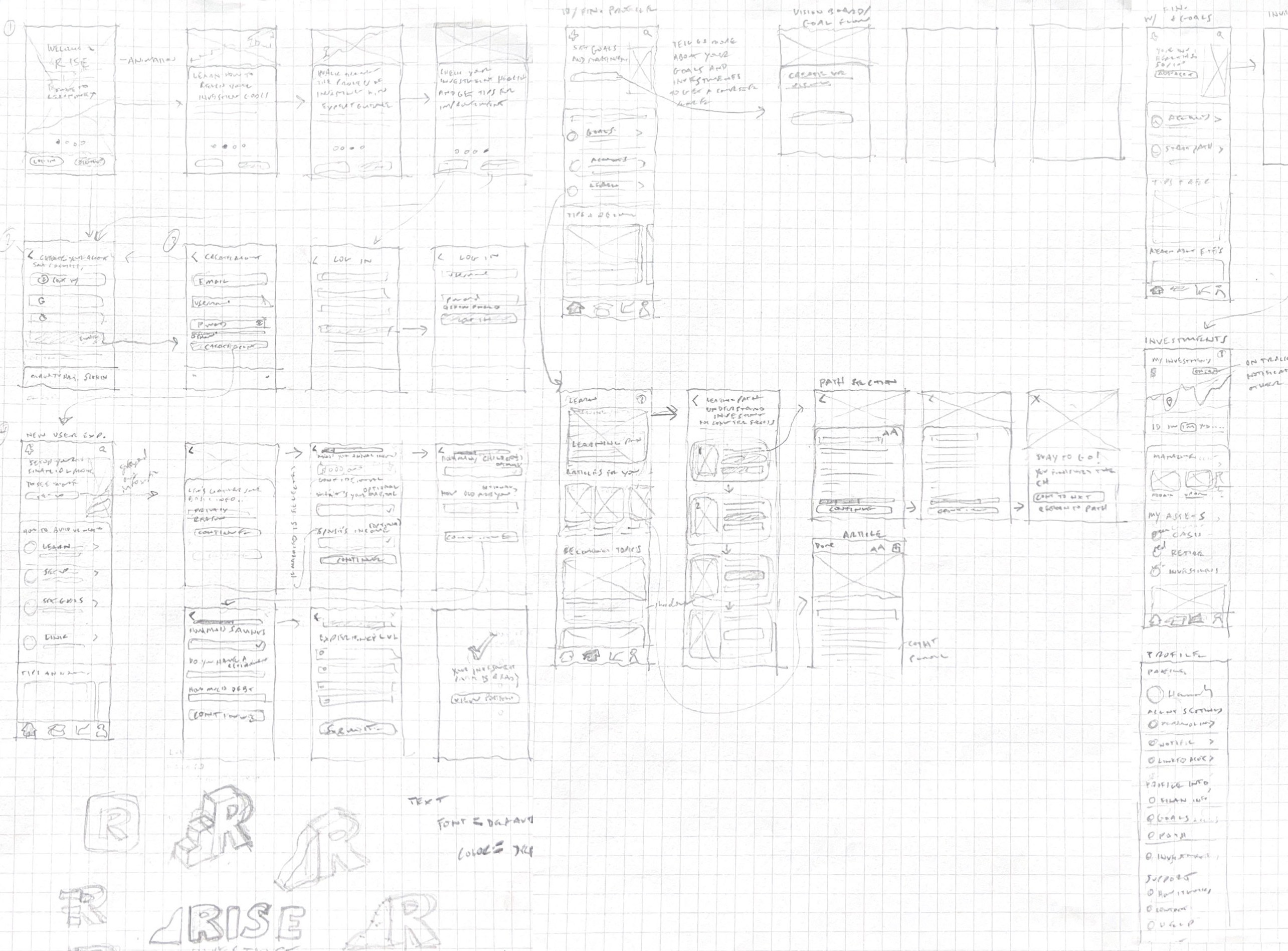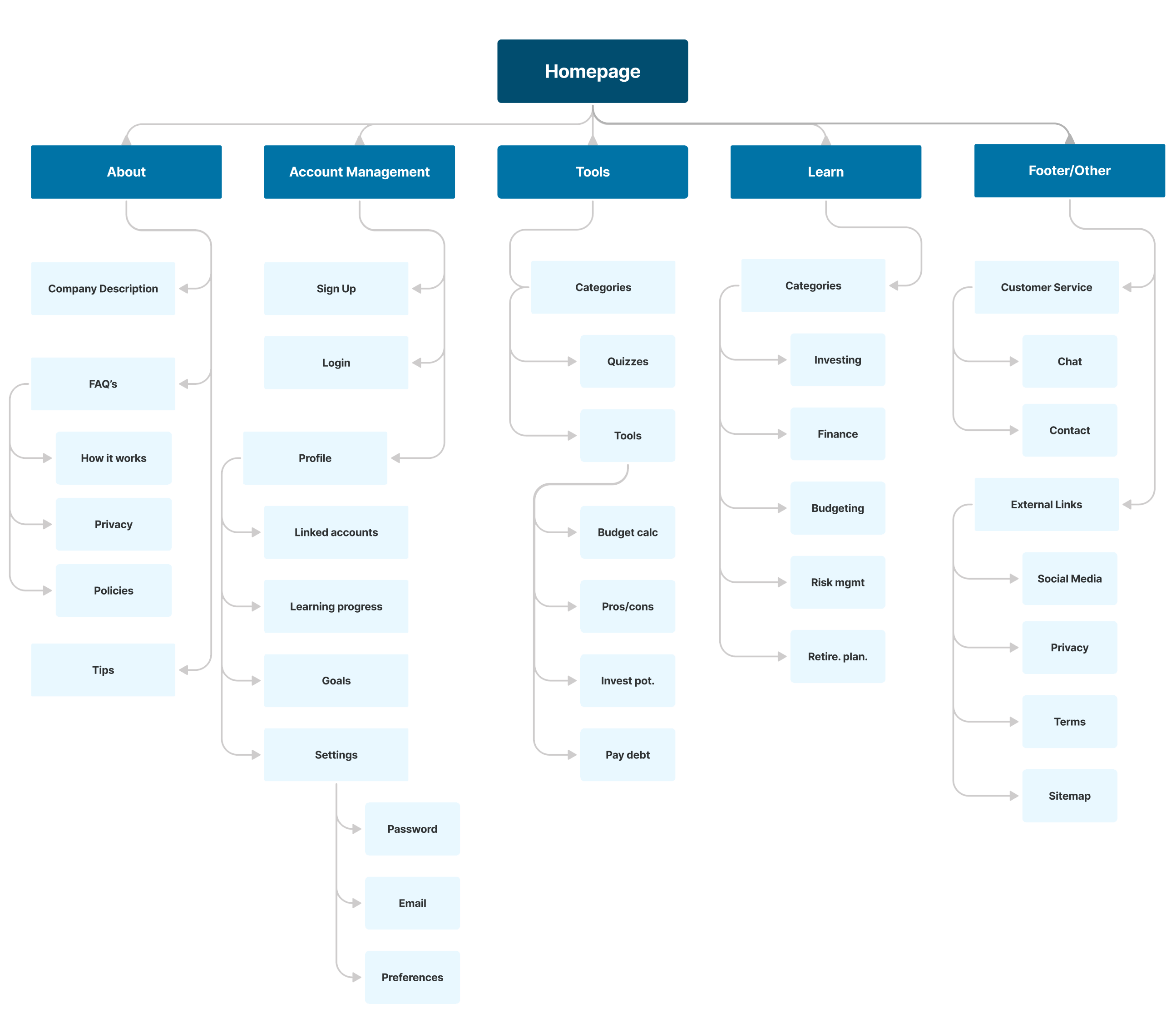 Sitemap
For the web version of Rise, I created a sitemap that included a learning section, a financial tool section, account management, and a homepage. The mobile app would have more features, like being able to edit financial information, set goals, see financial health, and get personalized tips and an individual learning path.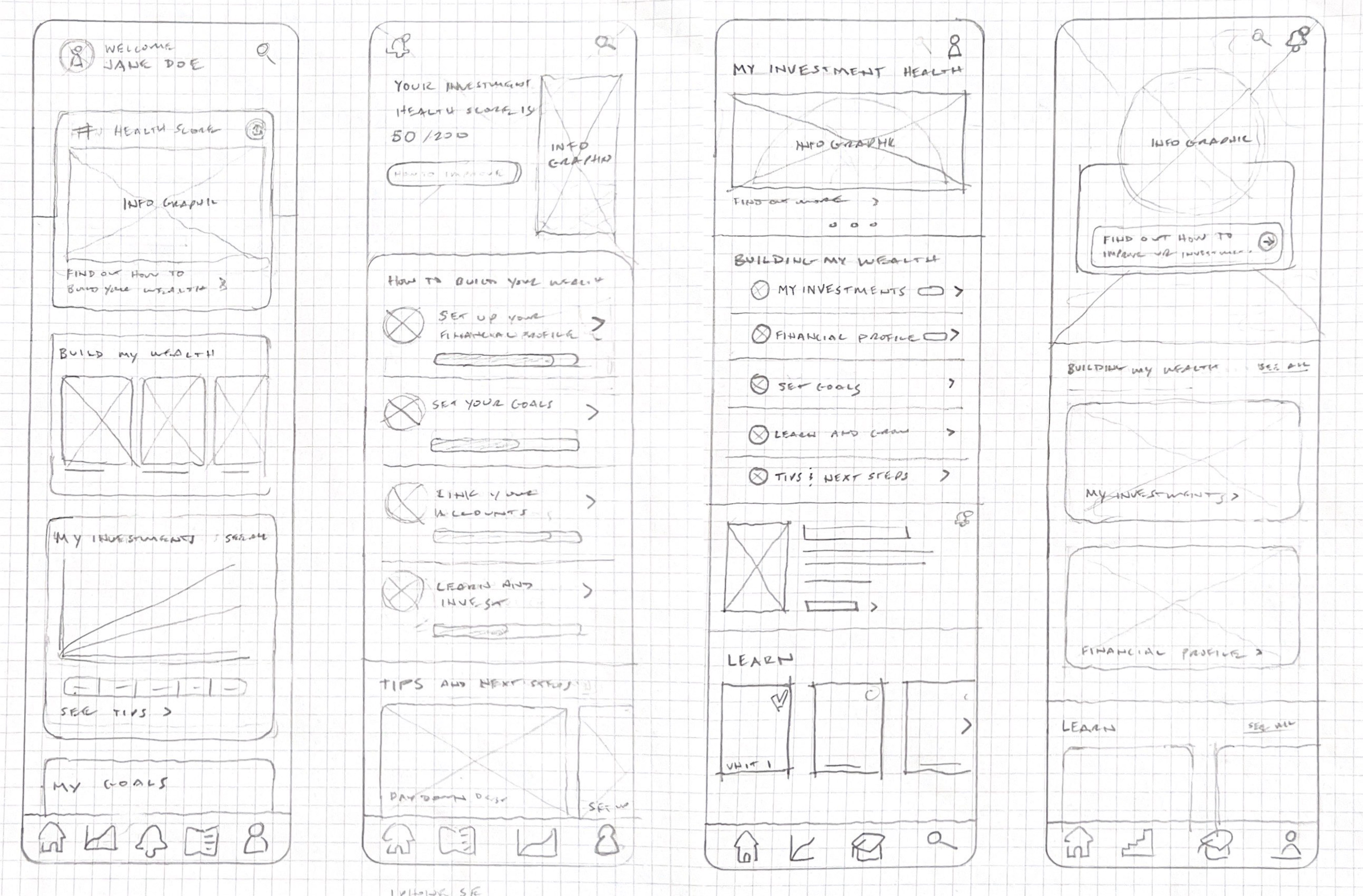 Wireframes
I created several iterations of the main screen and other components, sketching out options that built on my previous, rougher designs, and improved user flow, eventually moving on to create wireframes in Figma.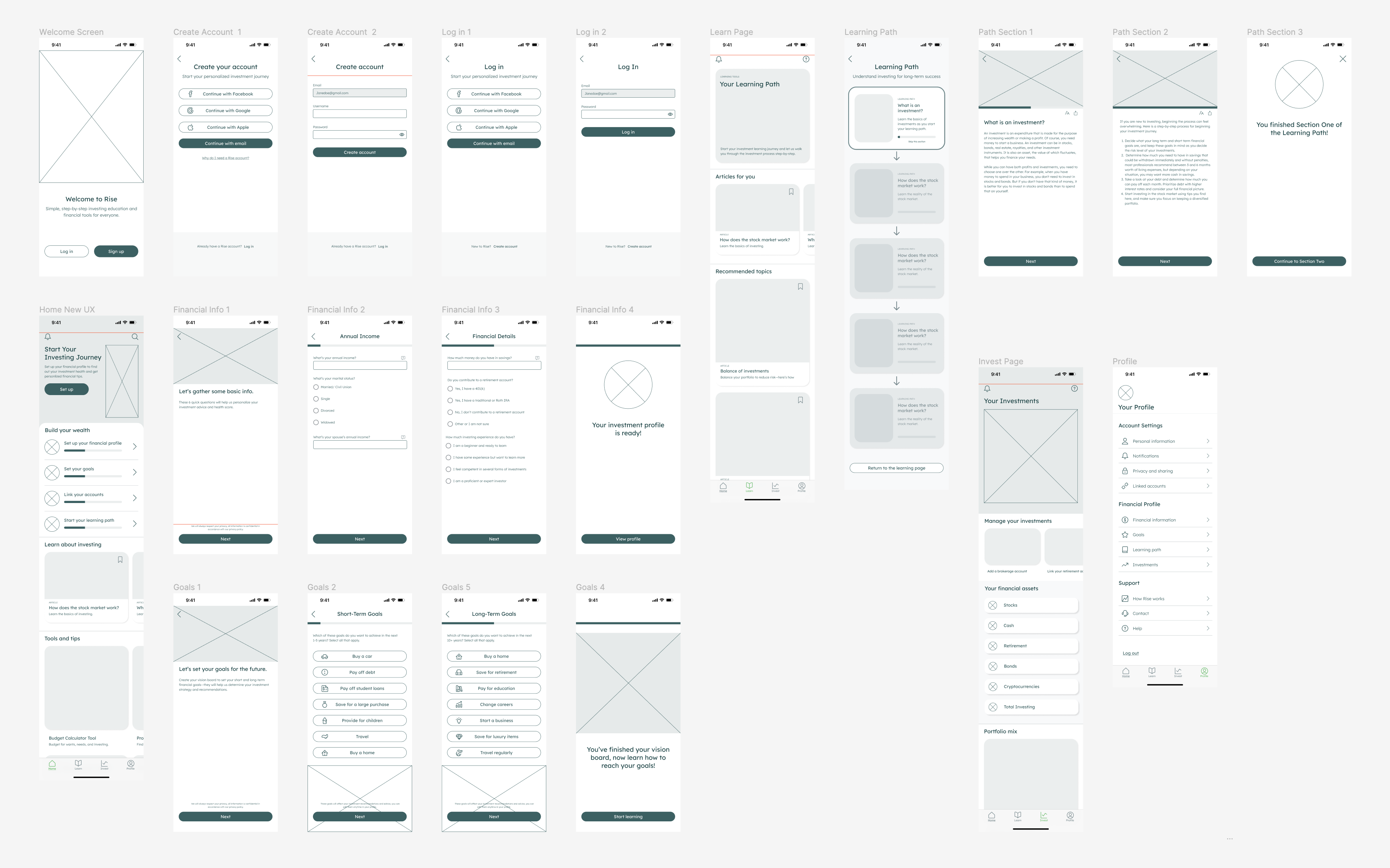 Usability Testing
I created a low-fidelity prototype of the above flow in Figma. I had five participants test the prototype, specifically paying attention to navigation and the overall flow. One main issue came up at this preliminary stage: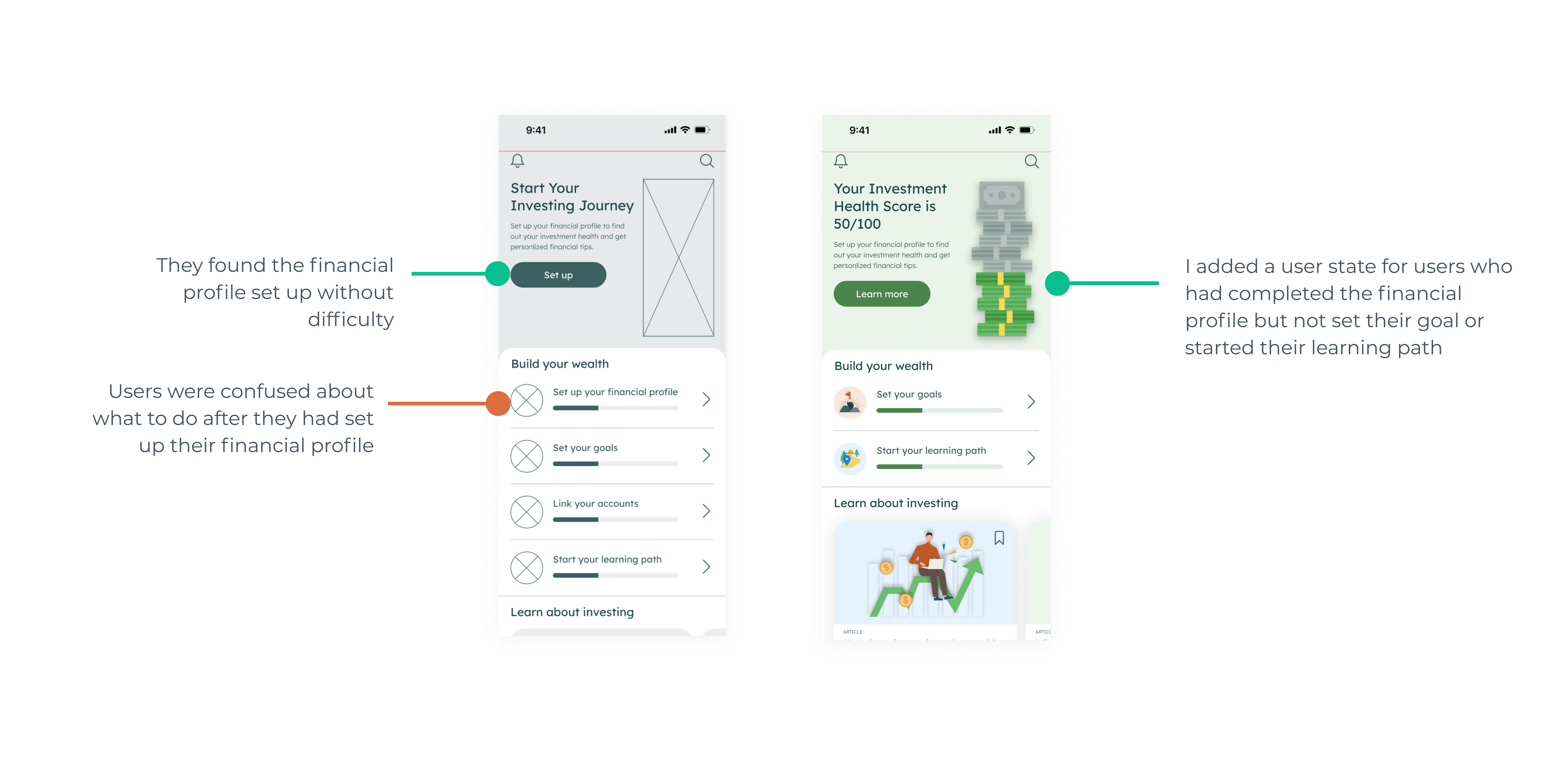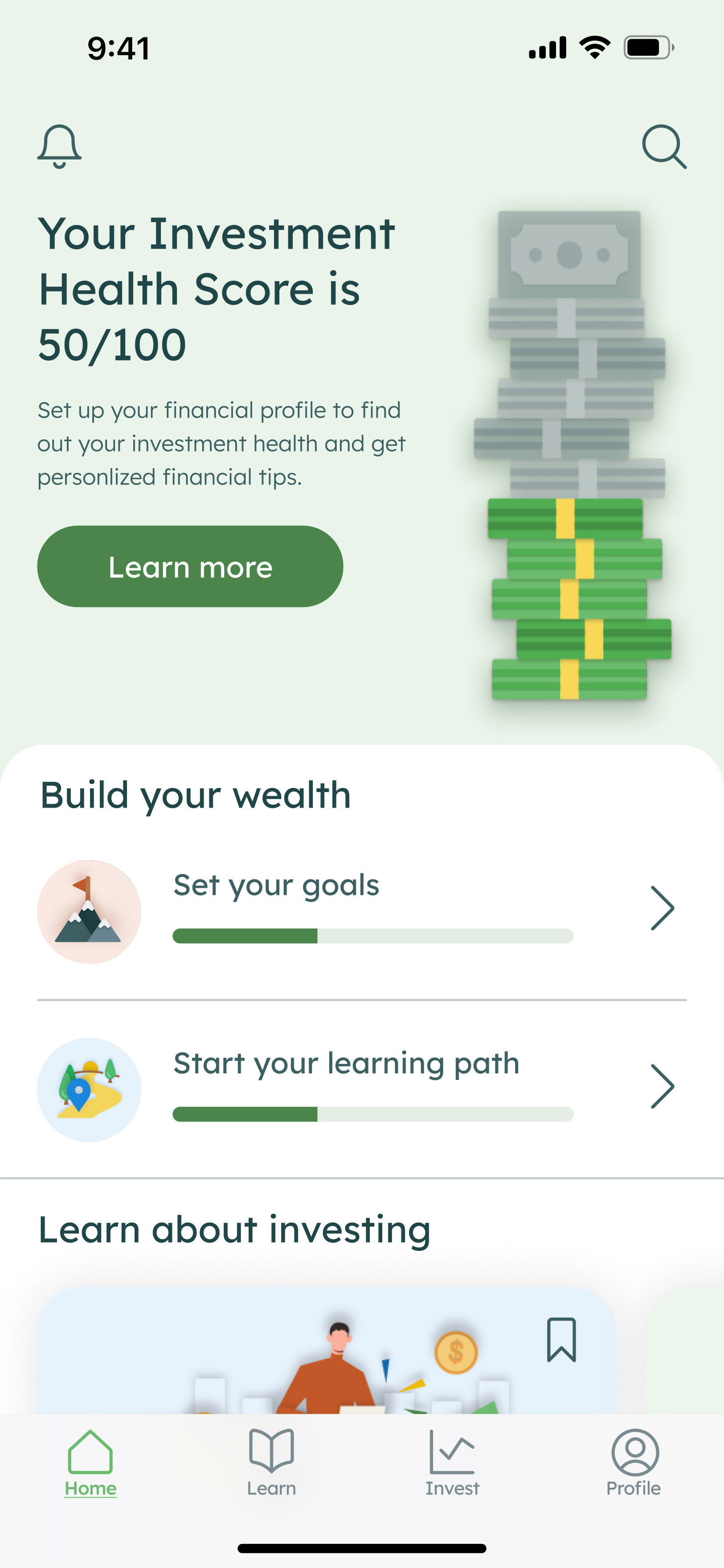 UI Design
After resolving some of the usability issues, I created final mockups in Figma. I was inspired by the brand name I had landed on (Rise) to find images and a style that gave users a sense of rising into the air or the top of a mountain, pursuing their financial goals in a fun, lighthearted way.
I created a fresh, bright, airy look with green as the main color, connoting financial success.

I edited stock images with my brand colors and added a paper-art effect with shadows, creating a unique brand image that was whimsical and gave users an idea of floating, or rising, toward their goals.

I designed a mobile application then a desktop and mobile website.




Next steps
If I were to continue this project, I would build out more of the mobile app features like linking accounts and managing investments and include some of the app features on the website as well.