Project Overview
Local Blooms specializes in delivering fresh, modern flower arrangements with blooms grown by local farmers. In this case study, they needed a new website and mobile application to drive growth and customer retention.
Project Type
Case study completed for Google UX Design Professional Certificate, Summer 2022
My Role
Concept, research, design
Deliverables
Mobile application design Responsive website design

How is Local Blooms different?
Most florists order flowers from South America, arrange standard or custom bouquets in-house, then deliver the flowers via courier to customers. Local Blooms orders flowers from local farmers, changing their online offerings frequently based on what is available and in-season, with unique arrangements but without the ability to request specific flowers. They deliver flowers via ground shipping or air shipping, giving customers a more typical e-commerce experience that is reliable and familiar.
A site that provided Local Blooms with a beautiful digital storefront that could easily be updated was crucial to driving more online growth with Millennial customers. The companion mobile app would give users an easy way to return to their rewards and recommendations, and check on delivery status or event reminders.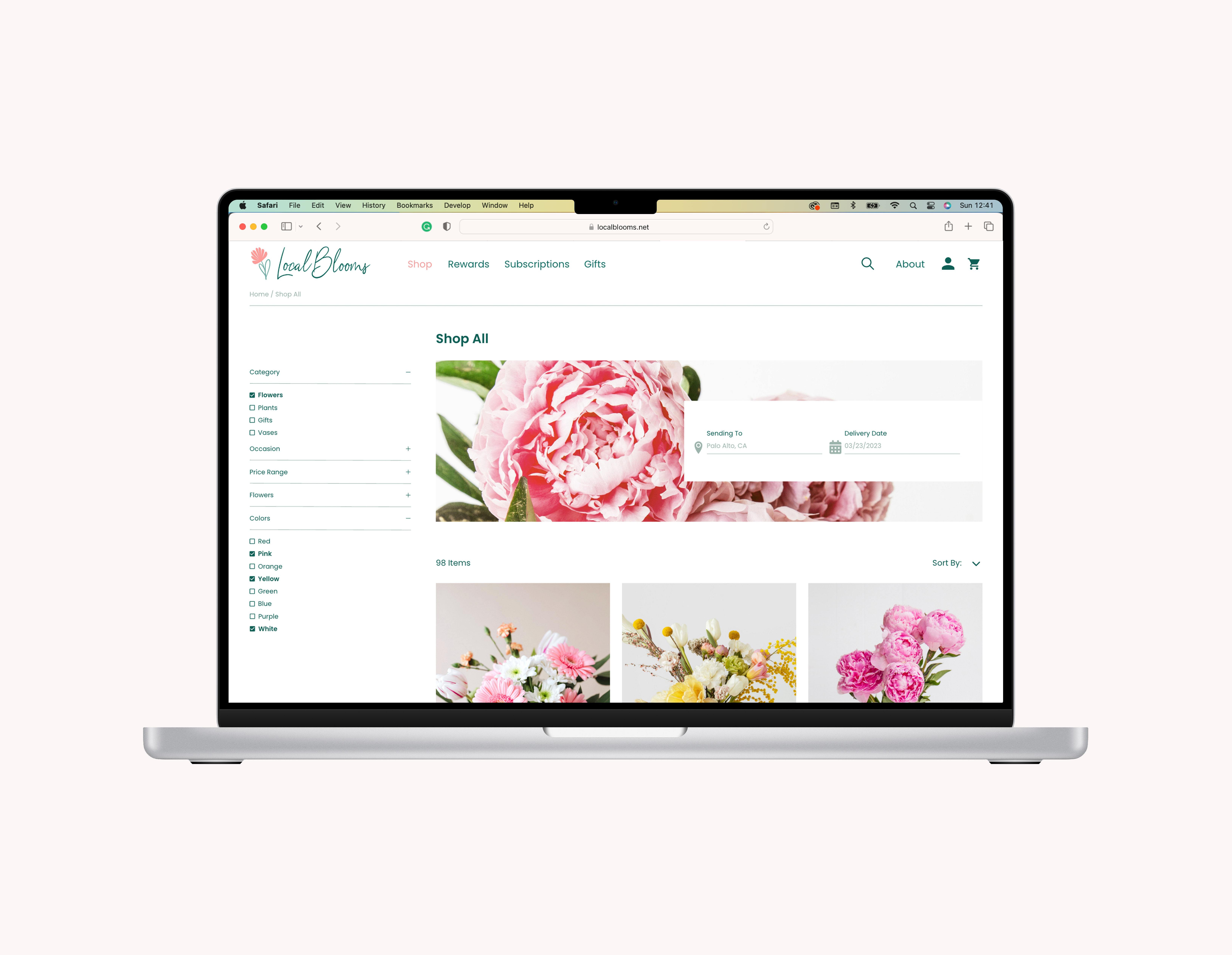 Project Goal
Many florists' sites are old-fashioned or bogged down with too many gifting options, making the selection process difficult and time-consuming. My goal was to create a bright design and easy-to-navigate site and application geared toward young and middle-aged women, that would drive recurring sales of arrangements.
Target Audience
According to the Floral Marketing Fund's 2021 report, Millennial women are currently driving floral sales, with less interest in traditional arrangments like rose and lily bouquets. The primary reason cited for not buying arrangements was cost, so an e-commerce site like Local Blooms that offers unique local flowers at a better price could have an advantage in bringing in new customers. Local Blooms would target Millennial women who want lower-cost arrangements at a better price point, shipped to their homes.
Initial Research and Design

Initial Questions
When beginning this project (with a prompt to create a mobile app and then a website for a trendy florist), I first wanted to find out who is buying flowers and where they are buying them. I found research conducted by the Floral Marketing Fund in 2021 that outlined generational differences in purchasing and decided to focus on creating a shopping experience for Millennial women.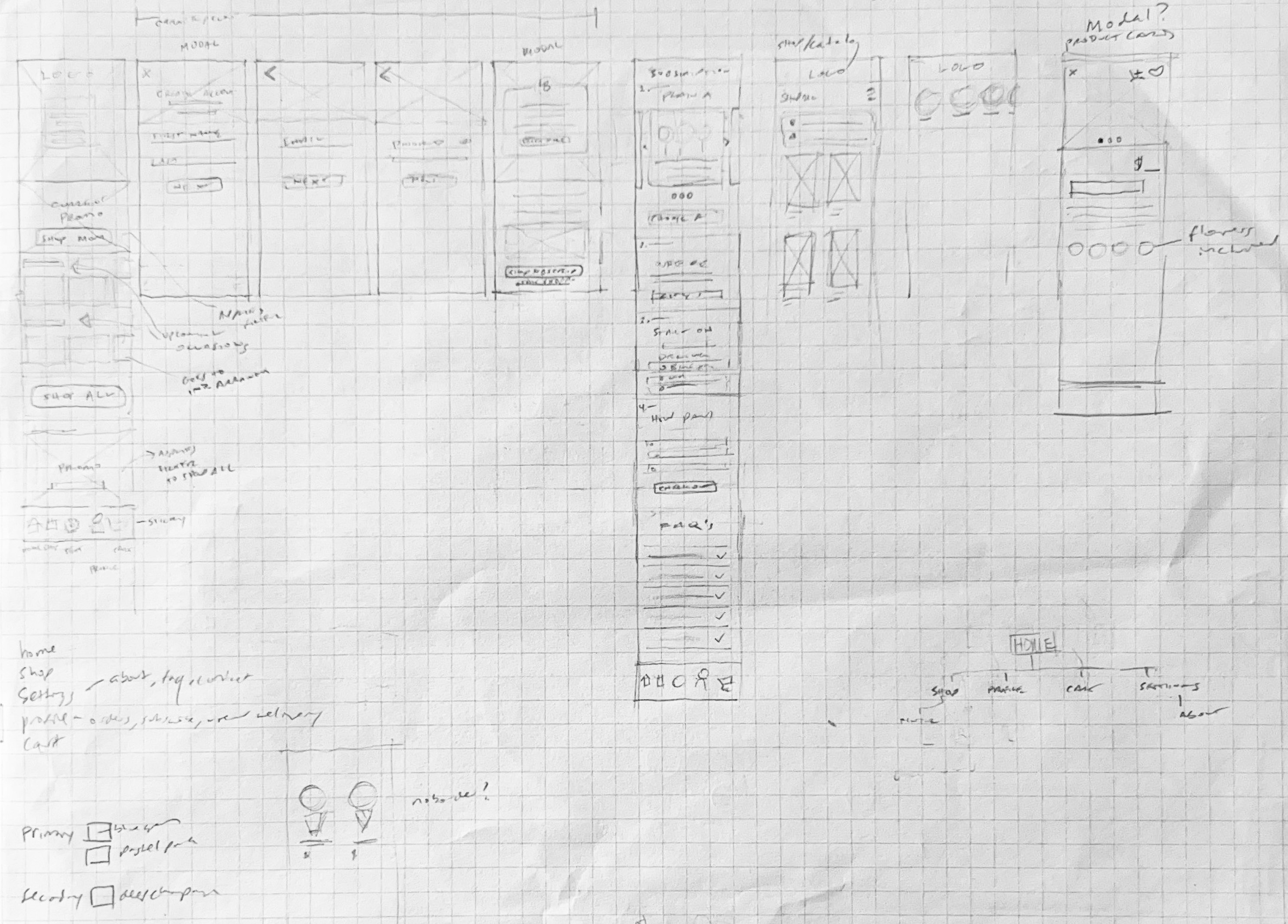 Brainstorming
My brainstorming process included doing a crazy 8's activity and sketching concepts for the app and website, first working through the user flow.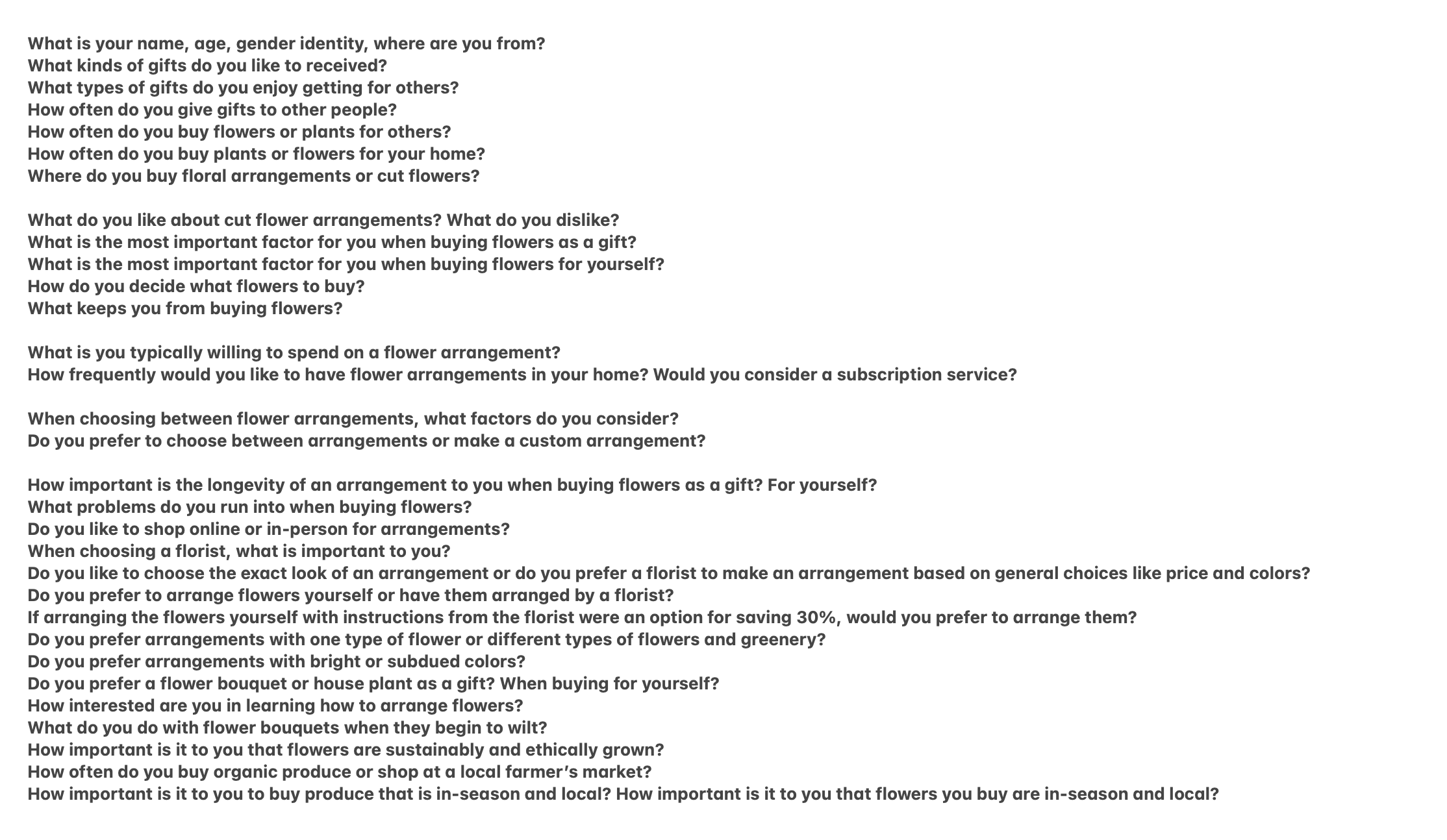 User Research
To find out more about the target audience, I interviewed four women and one man, aged 24 - 45 over Zoom. I found that the participants' had varying preferences for floral arrangements and different past experiences with florists.
Common themes included the desire for an easier check-out and delivery process and arrangements at a lower cost.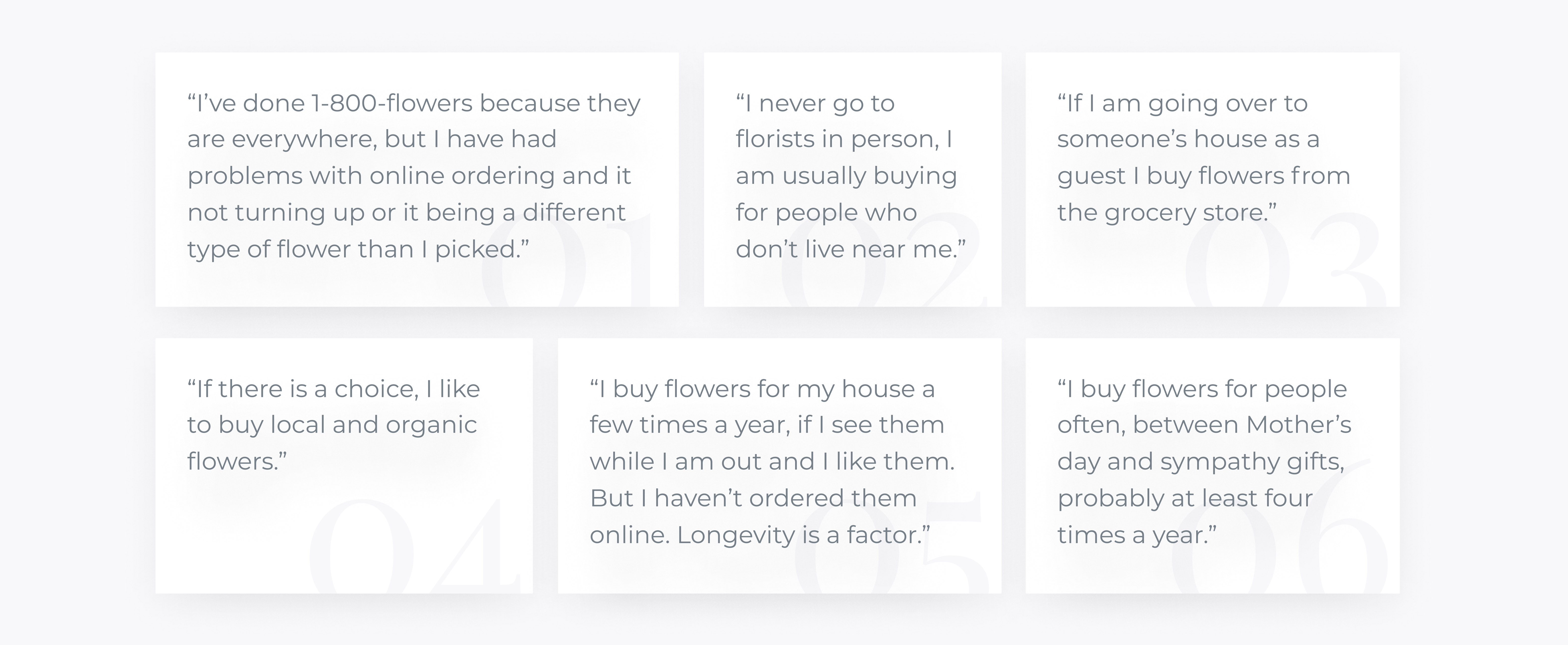 Personas
I created two personas based on my research to better empathize with users and understand their needs and desires: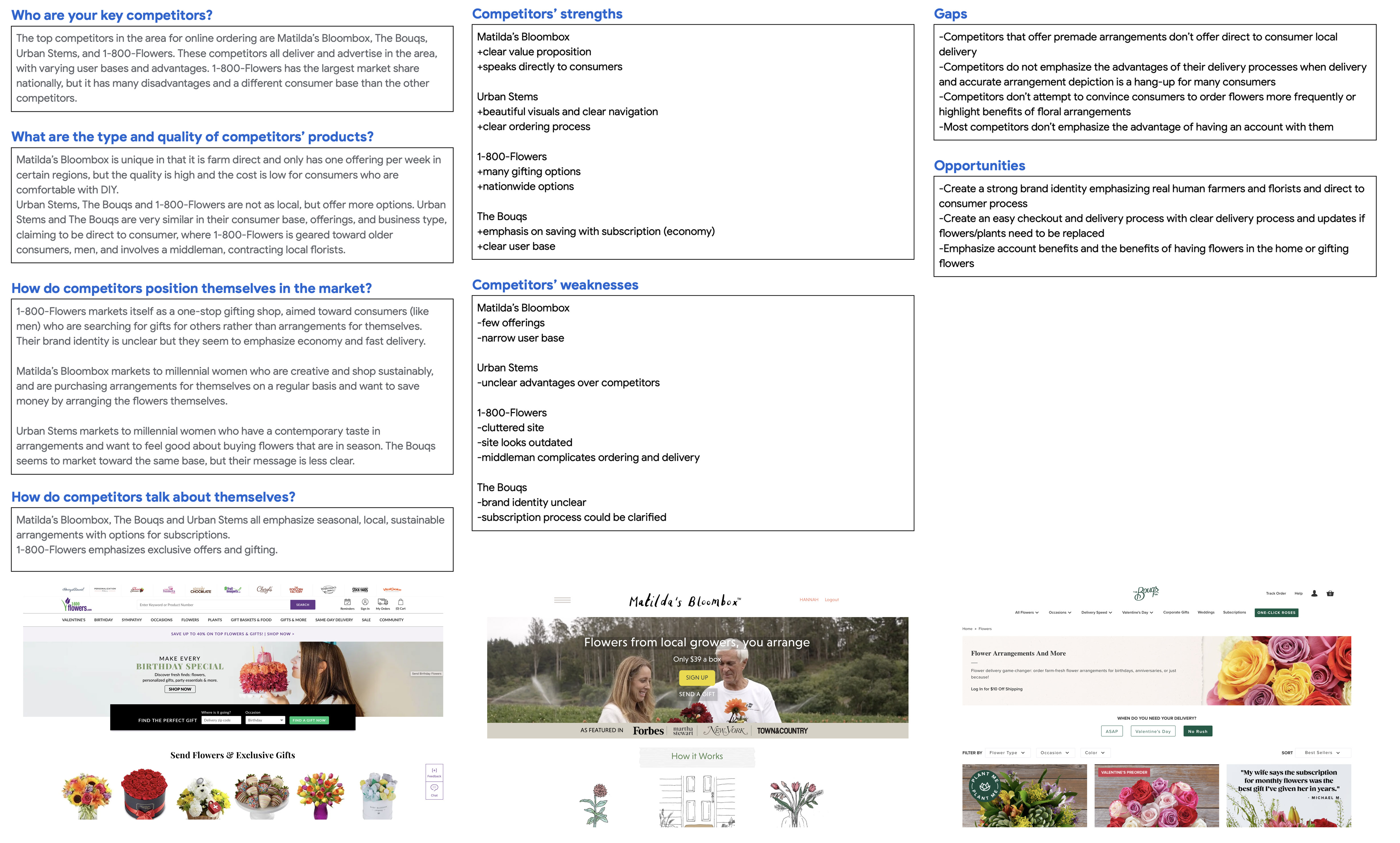 Competitive Analysis
Continuing my research, I focused on four online competitors, 1-800-Flowers, Matilda's Bloombox, The Bouqs, and Urban Stems. One gap I identified across the four sites was a lack of a rewards system to encourage customer loyalty. Several of the sites did not have clear value propositions, and the one that had the clearest, Matilda's Bloombox, has a very narrow costumer base and few offerings.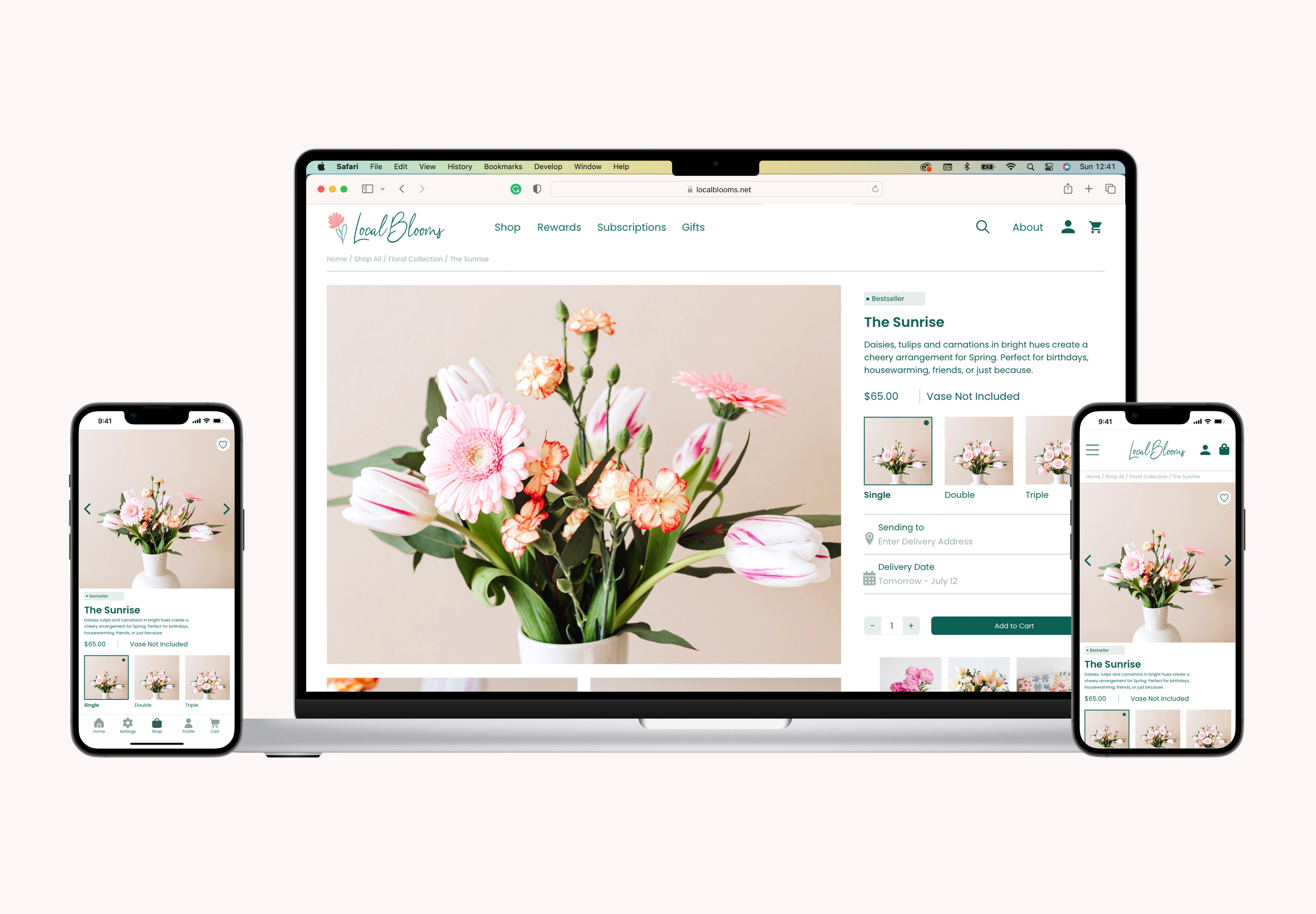 Scope
The intent of this project was to create a website and app for a florist that displays current floral arrangement offerings and gives users the ability to sort by occasion, flower type, and arrangement price. App users needed to be able to sign up for rewards, see recommendations based on previous purchases, and order flowers to be delivered.
Brainstorming
After I had a clearer idea of the users' needs, I worked on more specific layout options. I chose to focus on developing the core purchasing experience on the website for the course. If allotted more time I would have built out additional features on the app and site like the rewards system, subscriptions, reminders, and shipping updates.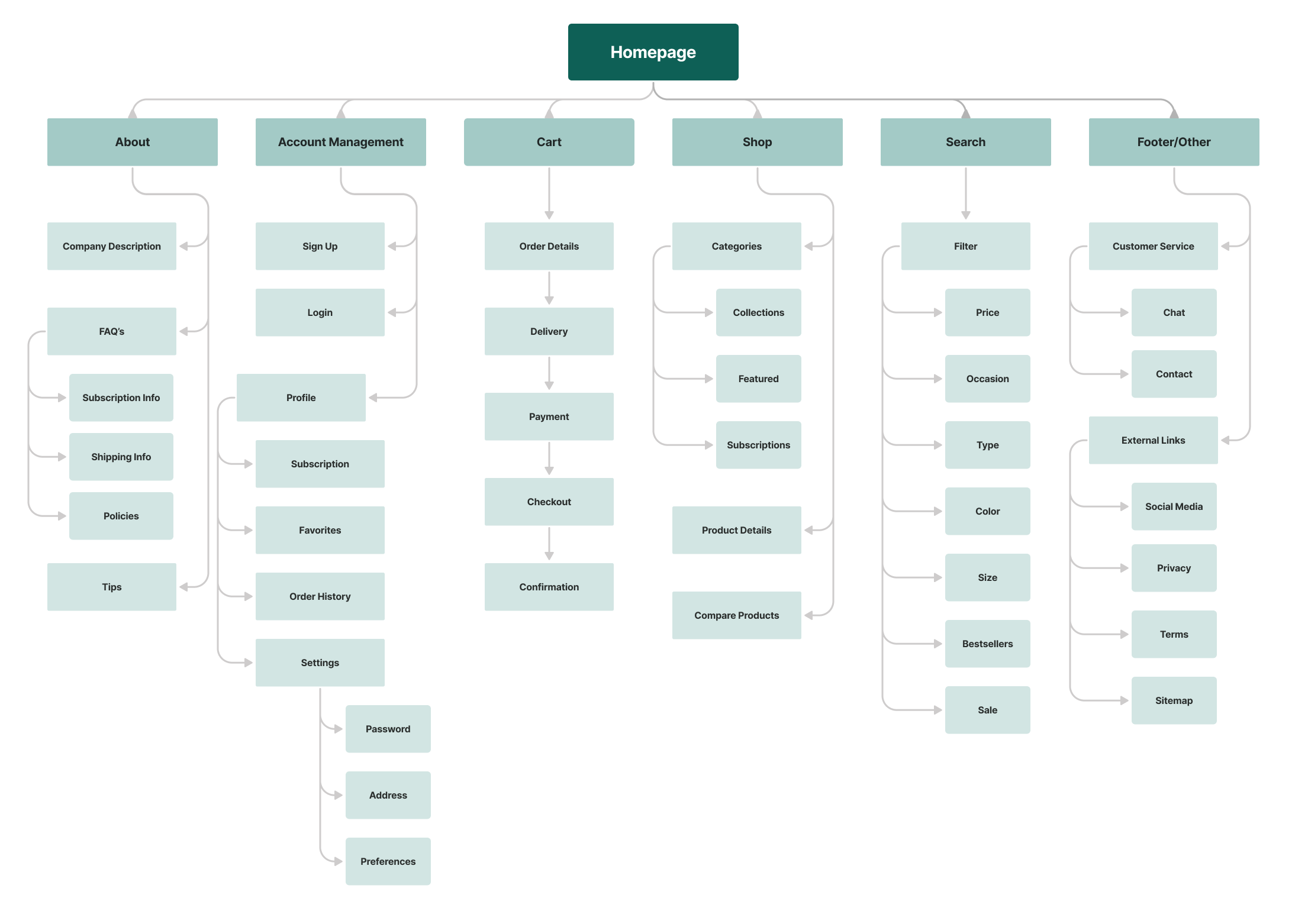 Sitemap
For the web version of Local Bloooms, I created a sitemap to determine what would be included and how the information would be structured. I created an about, account management, cart, and shop section, and provided what information could be found in the footer and search.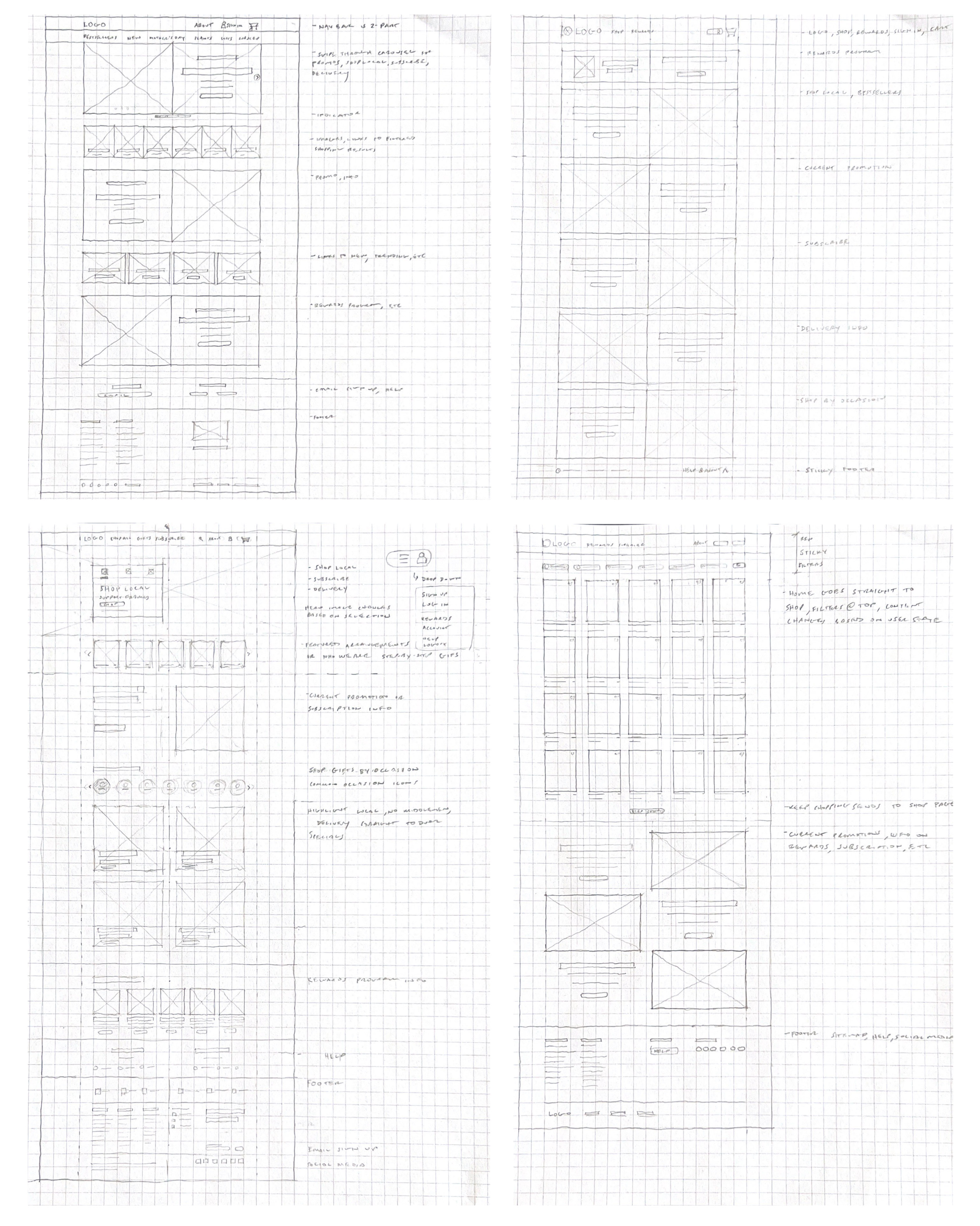 Wireframes
I worked on several paper wireframe iterations of the website home screen and shopping screen. I chose the most successful elements and began digital wireframes in Adobe XD for the website purchasing flows. Later, I used the same process to design the mobile app.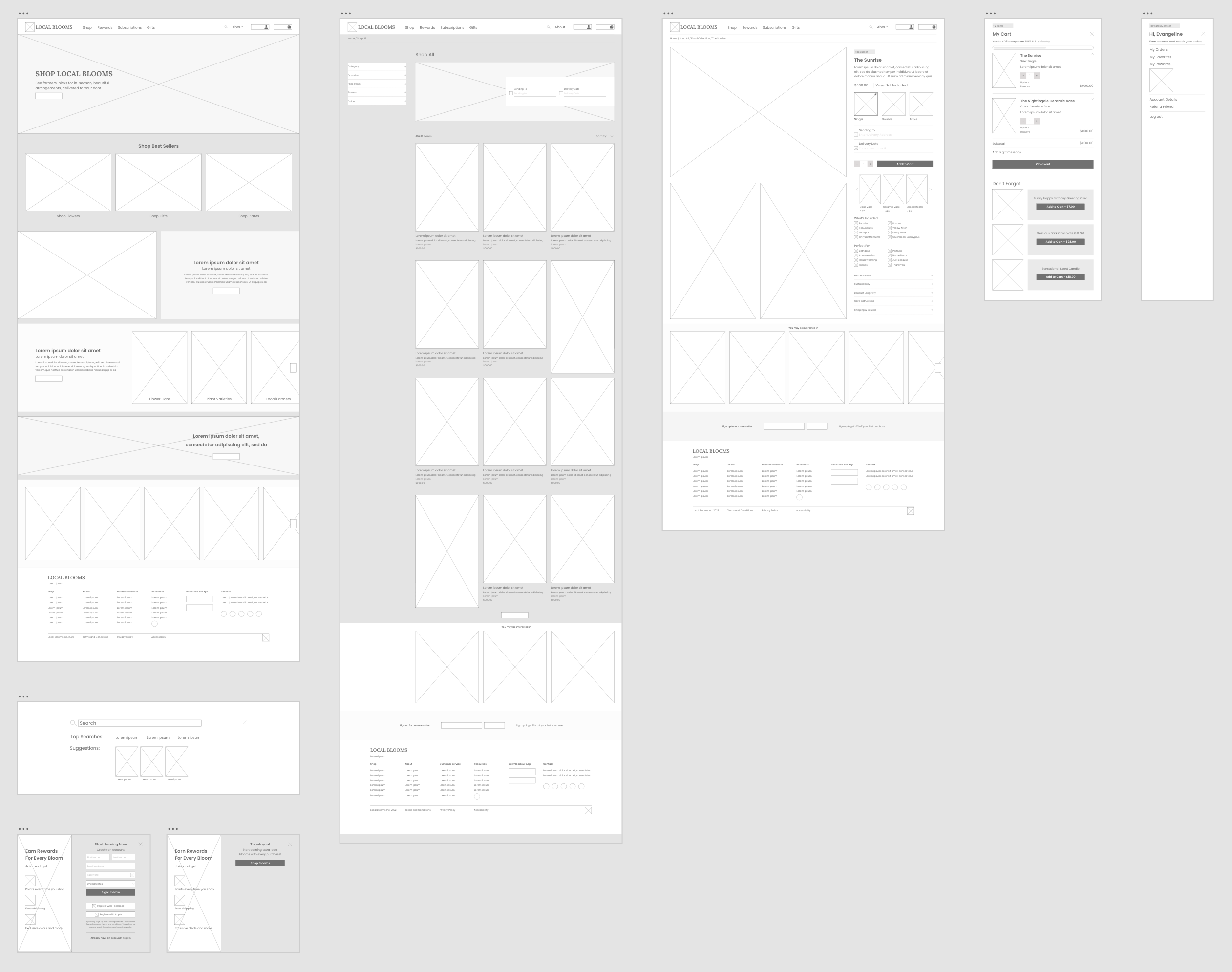 Usability Testing
I created a low-fidelity prototype of the above flow in Adobe XD. I had five participants test the prototype, specifically paying attention to navigation and the purchasing flow. One main issue came up at this preliminary stage: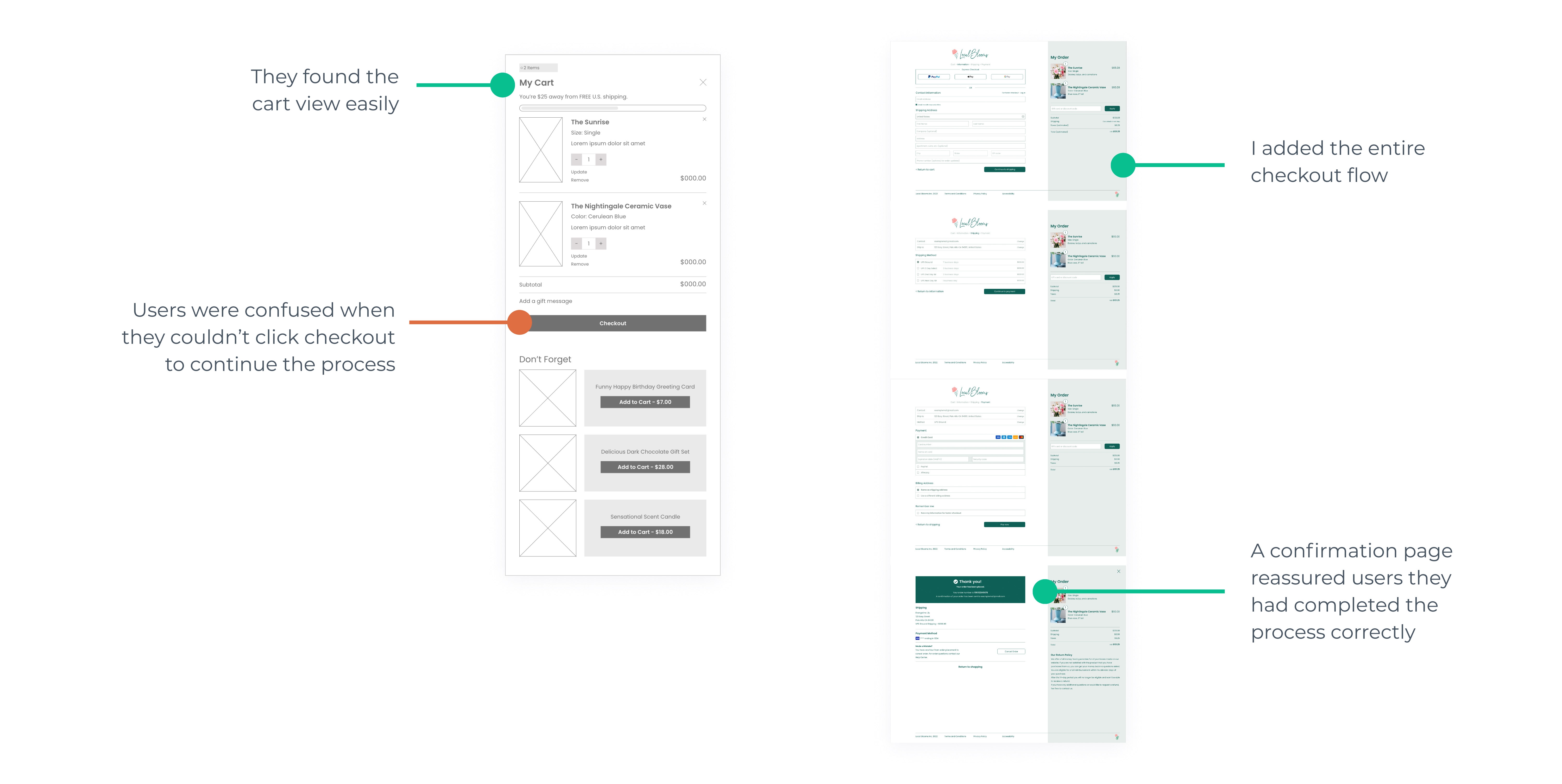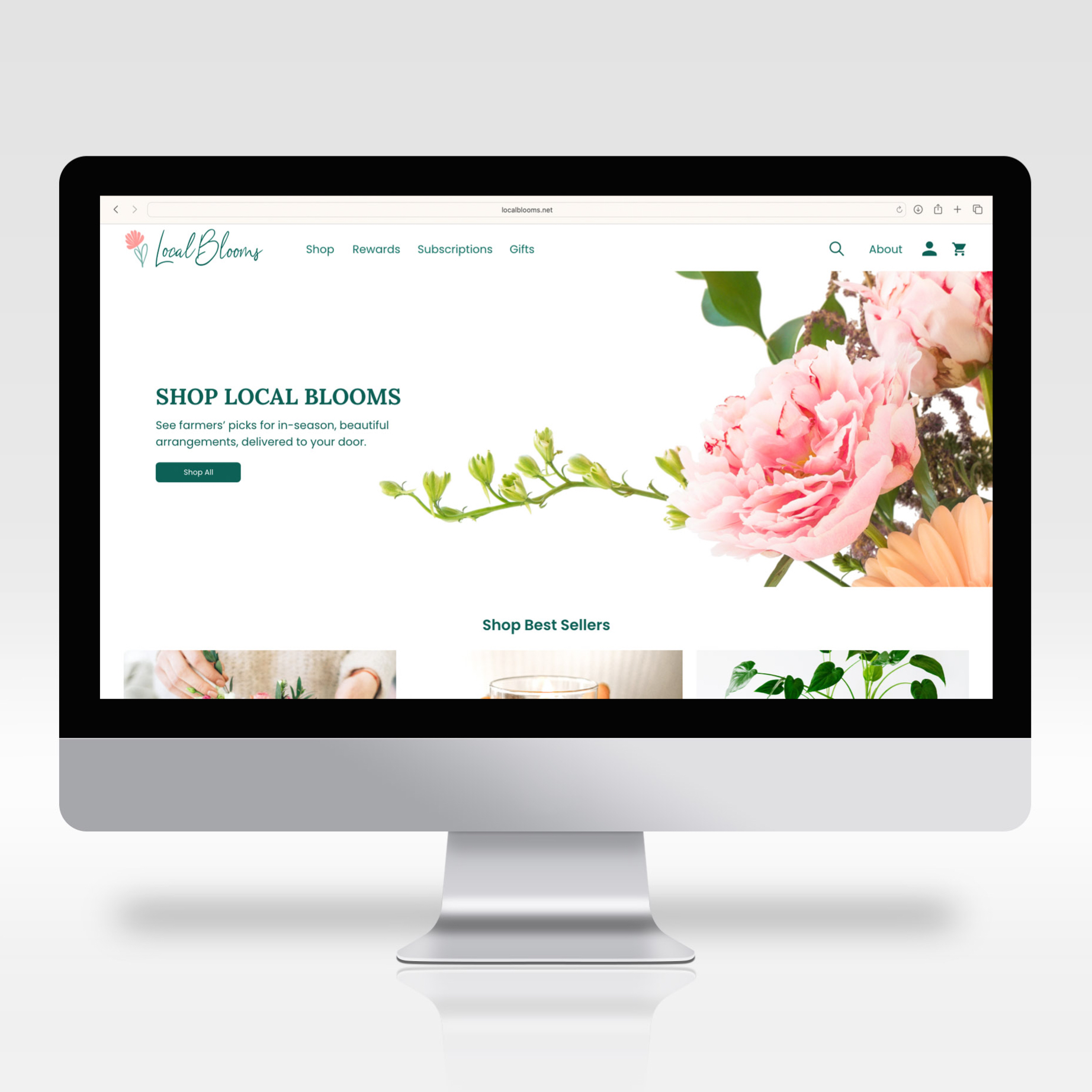 UI Design
Once the usability issues were resolved, I designed the final screens in Adobe XD.
For the color scheme, I chose hues that were feminine but modern. To get the right color and look for the home screen, I arranged flowers at my home and photographed them to create the banner image. I also photographed blooms for the image in the Local Blooms Rewards image.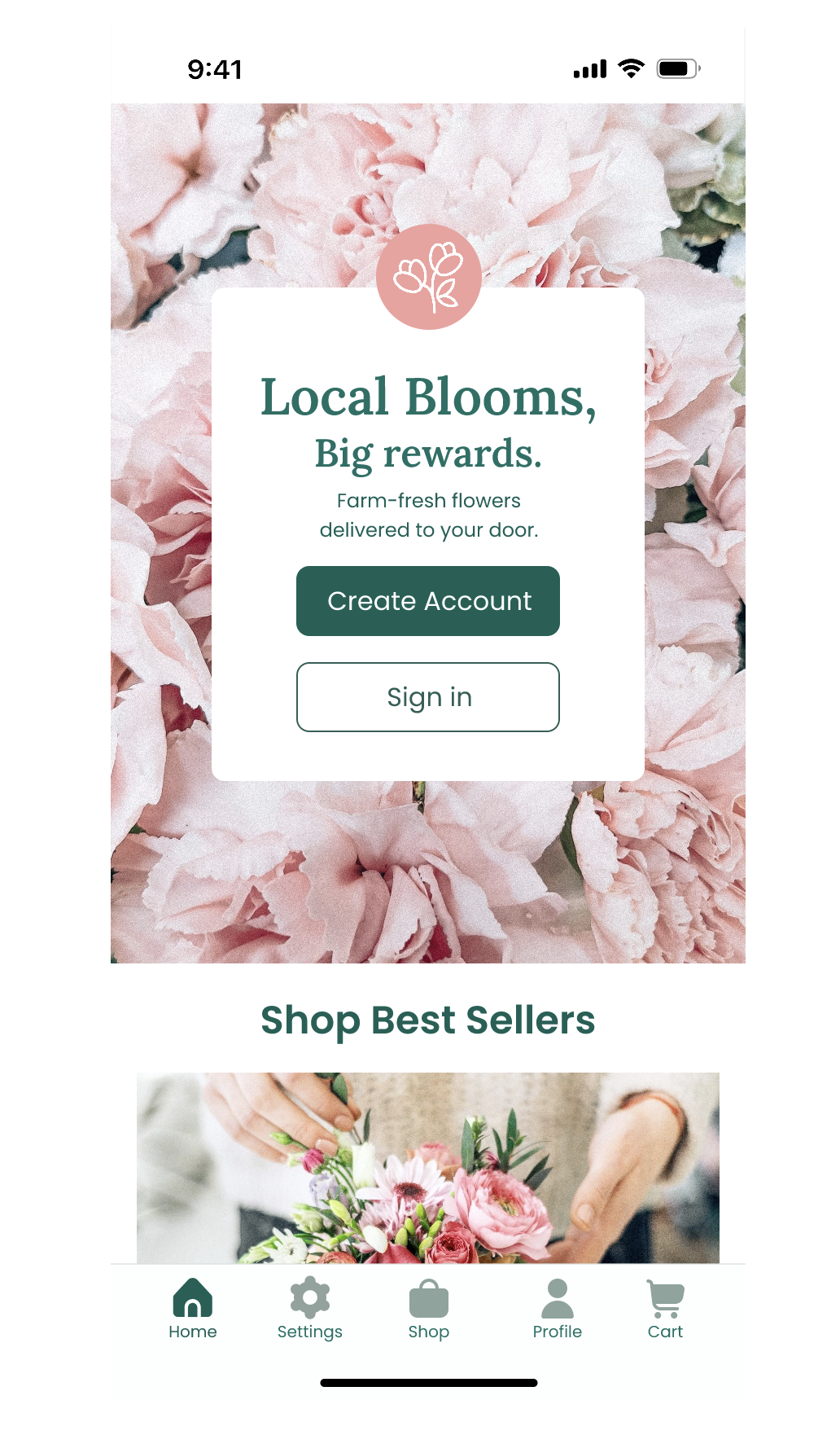 Mobile App Design
I designed the mobile app to have similar features to the website, with a stronger emphasis on creating a rewards account and displaying rewards points. The app also displays recommendations to users based on previous purchases. If I had more time in the course, I would have expanded the app reminder feature and package tracking and updates as well.
01
In hindsight, I think connecting with a real local florist to create or redesign a website would have been beneficial. Working with a real stakeholder would introduce new challenges and opportunities that would add to the depth of the case study.
02
If given more time on this assignment, I would have focused on creating and building out more features on the app and site like the rewards system, subscriptions, reminders, and shipping updates.
03
This was my first project designing for user experience while studying the subject, so I learned a lot about Figma and Adobe XD, as well as web and mobile design. For my next project, an investing education app, I knew I needed to pay more attention to unique and valuable user experiences, and let the UI follow.